3M Littmann Lightweight II SE Nurses Stethoscope - 7 Colors NIB ~Free Shipping~
Price 49.85 USD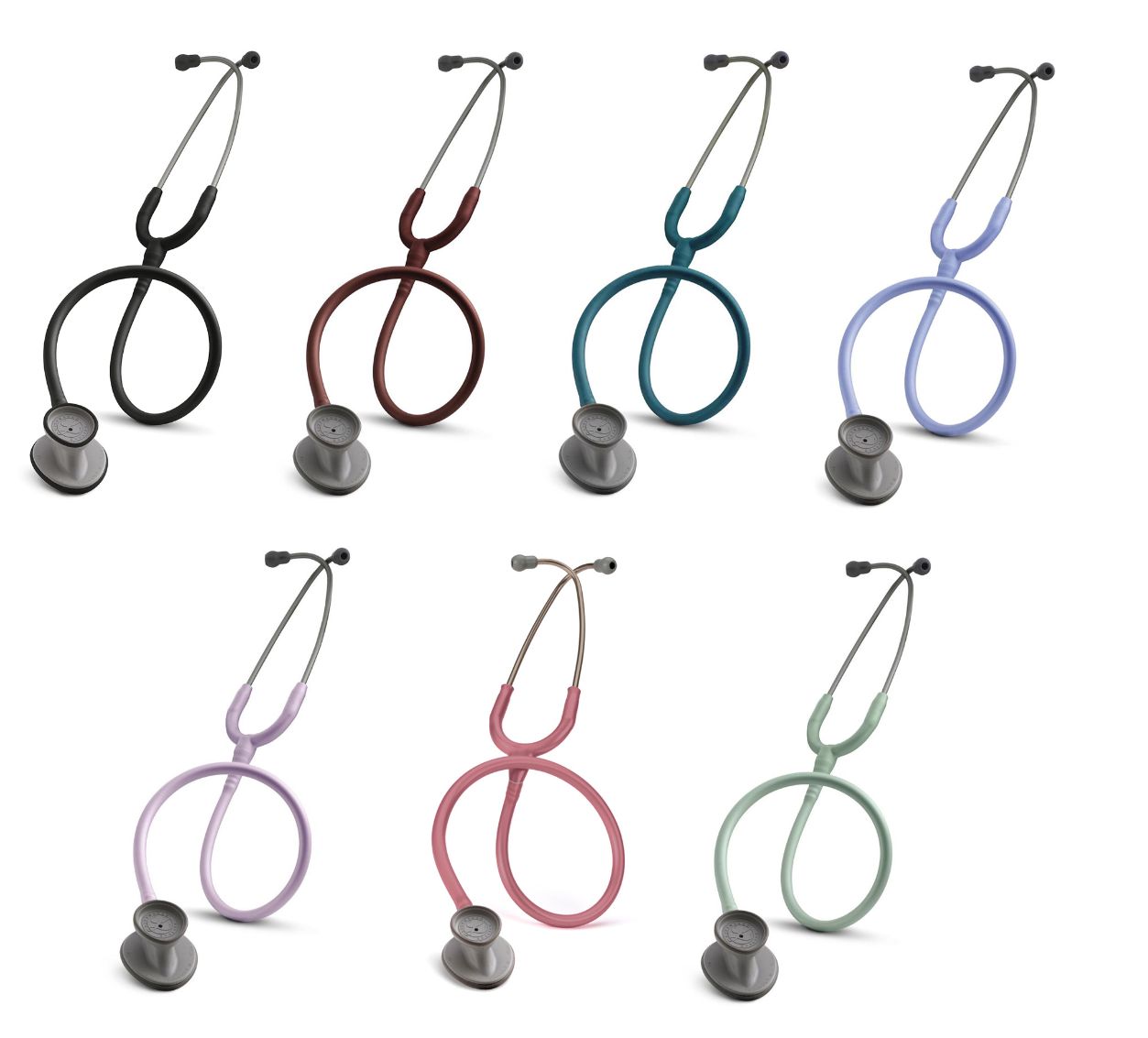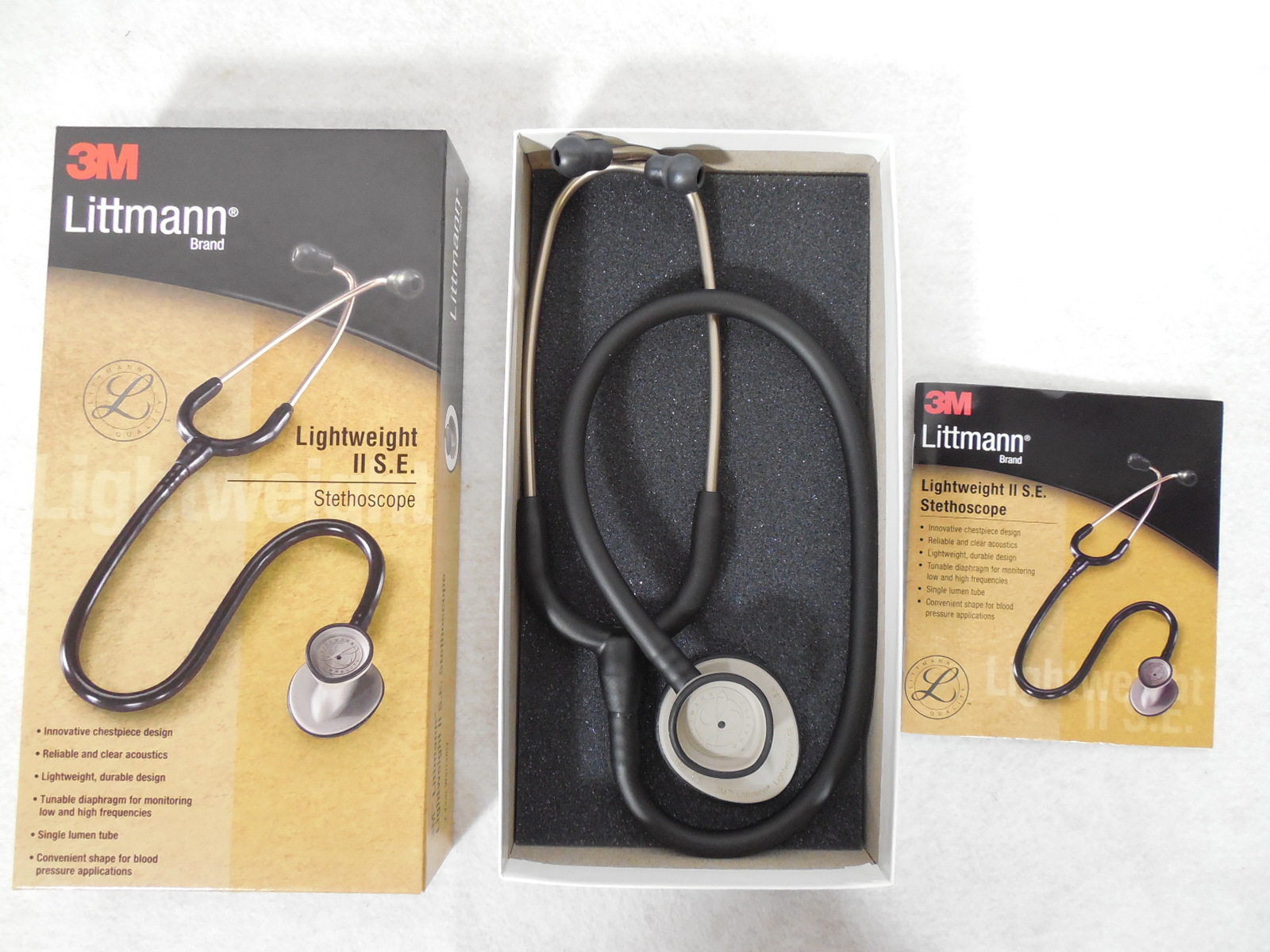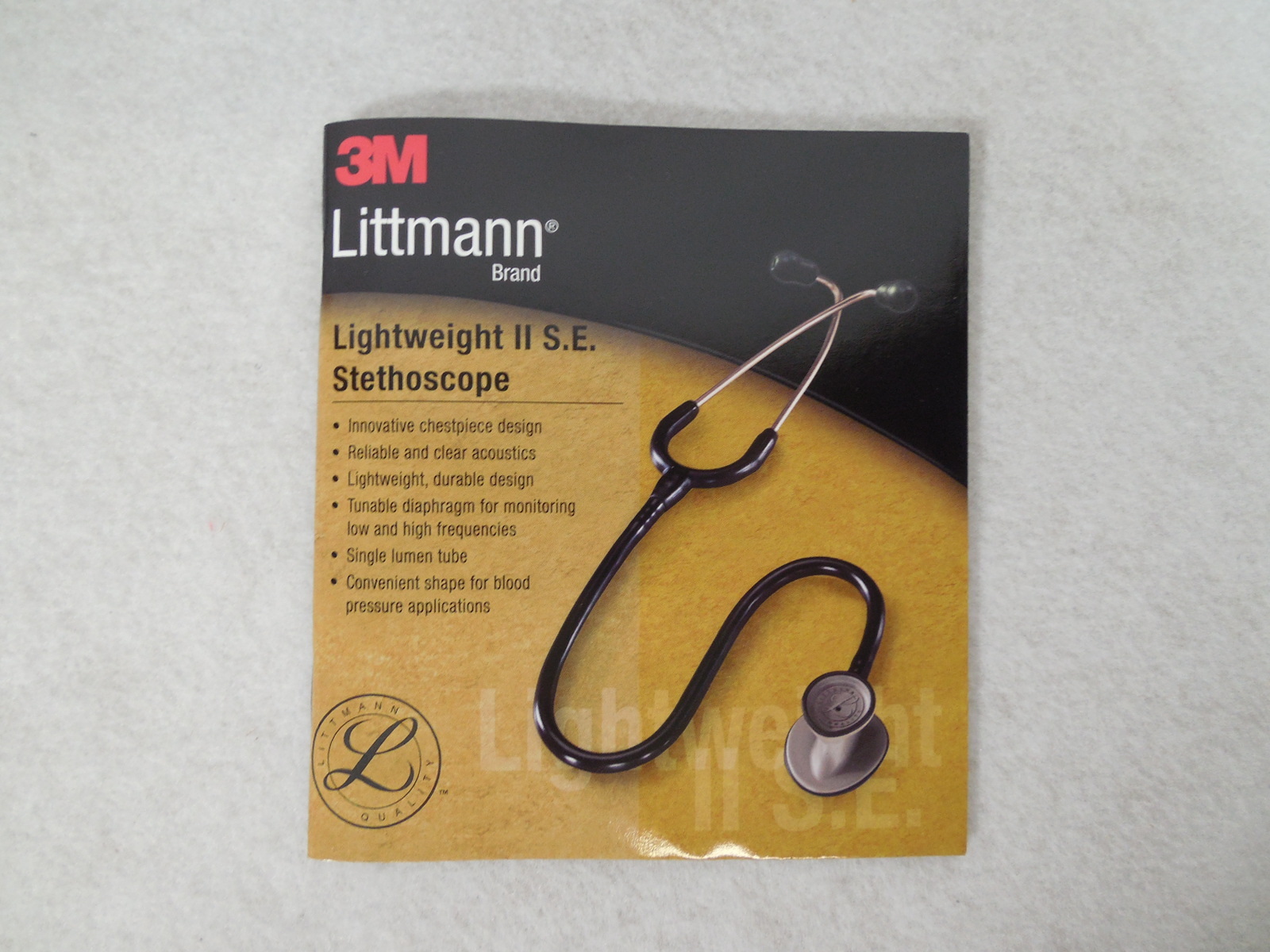 Item Description
The 3M™ Littmann® Lightweight II S.E. Stethoscope is an ideal entry-level instrument, with a tunable diaphragm, dual-sided chestpiece, and reliable acoustic performance. Its teardrop shape makes auscultation around blood pressure cuffs easier. Benefits Lightest weight of all Littmann adult stethoscopes at just 118 grams.Dual-sided chestpiece provides versatility of both a tunable diaphragm and open bell.Teardrop-shaped chestpiece for easier positioning under blood pressure cuffs and around bandages.Tunable diaphragm: Hear high or low frequency sounds by slightly adjusting pressure on the chestpiece.Soft-sealing eartips provide an excellent acoustic seal and comfortable fit. 7 Colors to Choose From !!!! **In Stock and Ships Same Business Day** 2 year Littmann Manufacturer's Warranty- Brand New in Original Retail Box >The Lightweight II S.E. stethoscope is an entry-level instrument that offers a surprising number of beyond-the-basics features such as a tunable diaphragm, dual-sided chestpiece, and adjustable headset. It's a good choice for medical professionals such as LPNs, licensed vocational nurses, certified nursing assistants, and nursing students. Tunable diaphragm technology—a 3M invention—lets clinicians hear different frequency sounds by simply adjusting the pressure on the chestpiece. Hold the chestpiece with light pressure to hear low frequency sounds; press a little more to hear higher frequency sounds. This time-saving feature allows the healthcare provider to focus on the patient, while the non-chill diaphragm and rim provide patient comfort. Resilient tubing retains its shape and flexibility even after folding tightly into a pocket. Headset tension is easily adjusted for head size and comfort by squeezing together or pulling apart the eartubes. Snap-tight, soft-sealing eartips conform to individual ears for an excellent acoustic seal and comfortable fit. Eartips snap firmly onto the ends of the eartubes and, for safety, require a significant effort to remove. Next-generation tubing is not made with natural rubber latex, a benefit to... Read More
The 3M™ Littmann® Lightweight II S.E. Stethoscope is an ideal entry-level instrument, with a tunable diaphragm, dual-sided chestpiece, and reliable acoustic performance. Its teardrop shape makes auscultation around blood pressure cuffs easier. Benefits Lightest weight of all Littmann adult stethoscopes at just 118 grams.Dual-sided chestpiece provides versatility of both a tunable diaphragm and open bell.Teardrop-shaped chestpiece for easier positioning under blood pressure cuffs and around bandages.Tunable diaphragm: Hear high or low frequency sounds by slightly adjusting pressure on the chestpiece.Soft-sealing eartips provide an excellent acoustic seal and comfortable fit. 7 Colors to Choose From !!!! **In Stock and Ships Same Business Day** 2 year Littmann Manufacturer's Warranty- Brand New in Original Retail Box >The Lightweight II S.E. stethoscope is an entry-level instrument that offers a surprising number of beyond-the-basics features such as a tunable diaphragm, dual-sided chestpiece, and adjustable headset. It's a good choice for medical professionals such as LPNs, licensed vocational nurses, certified nursing assistants, and nursing students. Tunable diaphragm technology—a 3M invention—lets clinicians hear different frequency sounds by simply adjusting the pressure on the chestpiece. Hold the chestpiece with light pressure to hear low frequency sounds; press a little more to hear higher frequency sounds. This time-saving feature allows the healthcare provider to focus on the patient, while the non-chill diaphragm and rim provide patient comfort. Resilient tubing retains its shape and flexibility even after folding tightly into a pocket. Headset tension is easily adjusted for head size and comfort by squeezing together or pulling apart the eartubes. Snap-tight, soft-sealing eartips conform to individual ears for an excellent acoustic seal and comfortable fit. Eartips snap firmly onto the ends of the eartubes and, for safety, require a significant effort to remove. Next-generation tubing is not made with natural rubber latex, a benefit to sensitive medical professionals and their patients. And, to play its part in the protection of human health and the environment, the next-generation tubing does not contain phthalate plasticizers. The Lightweight II S.E. stethoscope is made in the USA for consistent quality. It comes complete with large soft-sealing eartips and instructions. These are "Brand New" in the original Littmann retail box. The Littmann Lightweight II S.E. comes with a 2 Year manufacturer's warranty. You will need to register your Littmann on their website. If you need a warranty repair, please visit the Littmann website to obtain detailed return instructions and requirements. If you have any question or concerns please message us and we'll be glad to help........... Thanks for shopping with us!!!
alhealth1 Feedbacks Rating
Feedbacks
( 998 ) 1***2
Excellent! Would buy from again!
( 244 ) 2***4
Thank you!!! I love it
( 59 ) a***m
Fast shipment. Product was as described. Would but from again!
( 524 ) a***p
good product. Fast shipping. Thanks! As described.
( 343 ) v***l
Fast shipping!
( 141 ) 8***w
Very pleased. Exactly as described.
( 177 ) a***r
Thanks!! I love this. Super fast shipping!!
( 830 ) i***m
Great product and fast shipping!
( 365 ) e***i
Prompt delivery, excellent quality product. Thank you!
( 308 ) s***1
Excellent seller, super fast shipping, very pleased
( 293 ) 0***l
Love it so much :)
( 200 ) 8***t
Color was darker than picture description but great stethoscope thanks
( 145 ) s***c
Thank you!!!! A++++
( 171 ) s***r
A++ fast ship
( 522 ) y***y
Fast shipping
( 54 ) 9***a
I'm great condition and it was unlocked like it said. I love this phone
( 27 ) u***s
Great transaction~thank you
( 152 ) u***z
fast shipping
( 92 ) m***-
Excellent product! Speed of shipment and delivery was great! Very pleased!
( 12 ) l***b
The stars are no joke! Super fast shipping, responded within MINUTES! Thank you!
( 729 ) e***g
Great transaction, my reward for finishing Home Aide training, thank you +++++++
( 210 ) i***2
Just what my daughter needed
( 94 ) y***k
Phenomenal all around