Fr GoPro Hero 7 5 4 6 3 2 Session Accessories Camera Mount suction Cup Stick Kit
Price 25.99 USD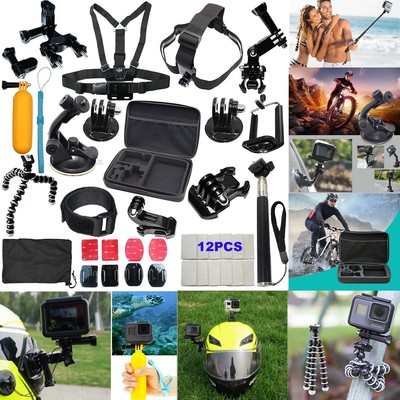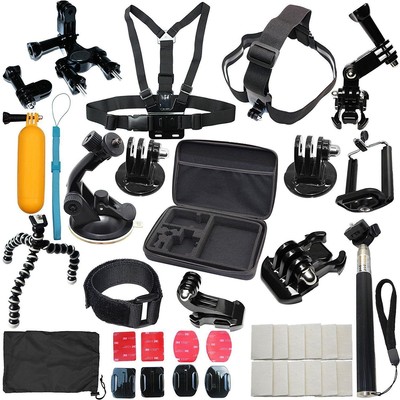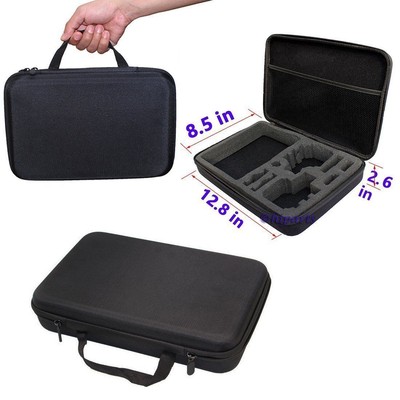 Item Description
Store category New Arrivals!!!Laptop KeyboardLaptop CPU FanLaptop LED/LCD/Ribbon CableLaptop LCD InverterLaptop LED/LCD HingeLaptop Floppy Drive & JackWedding Accessorieshot item 5%Car led lightSunglassesCarburetor for LawnmowersOff Road Work LightTelephone HeadsetsGenerator Voltage RegulatorOximetersautopartsScooter AccessoriesBluetoothHealth & BeautyGo Kart Minibike ClutchGoPro AccessoriesOther Sign Up Now ! You may also like For GoPro Hero 5 4 6 3 2 Session Accessories Camera Mount suction Cup Stick Kit Product Description These are not original gopro products, but they are very nice replacements. Meet most of your needs for supporting accessories when you are shooting with your gopro hero camera. Package includes:Total 13PCS.1X Chest Belt Strap Mount 1X Head Strap Mount, (1X Handlebar Seatpost +1X Pivot Arm) 1X Floating Grip, (1X Handle Monopod +1X Tripod Mount Adapter) (1X Auto Suction Cup +1X Tripod Mount) 1X 3-way Adjustment Base, 1X Wrist Strap, 1X Carry Bag. Payment Delivery details Terms of sales About us Contact us Payment We accepted Paypal ONLY, All auction items must be paid in full. Shipping address must be the same as Paypal confirm address, if not, please contact and confirm with us. Delivery details All orders will be shipped within 2 business days after the payment is cleared. We use USPS First Class Service: all shipment will be with tracking number. Terms of sales We have satisfactory guarantee, if you are not satisfied with your purchase, or If by any chance you do receive a defective item please contact us and we will help to resolve your problem. Please contact us within 60 days of receipt to return it for refund or exchange. Non-defective item returns will be accepted within 14-days.There will be 15% restocking fees. Buyer is responsible for return shipping costs. About us Hiparts is a distributor of medical device , located at South San Francisco, CA 94080, Please Contact us at... Read More
Store category New Arrivals!!!Laptop KeyboardLaptop CPU FanLaptop LED/LCD/Ribbon CableLaptop LCD InverterLaptop LED/LCD HingeLaptop Floppy Drive & JackWedding Accessorieshot item 5%Car led lightSunglassesCarburetor for LawnmowersOff Road Work LightTelephone HeadsetsGenerator Voltage RegulatorOximetersautopartsScooter AccessoriesBluetoothHealth & BeautyGo Kart Minibike ClutchGoPro AccessoriesOther Sign Up Now ! You may also like For GoPro Hero 5 4 6 3 2 Session Accessories Camera Mount suction Cup Stick Kit Product Description These are not original gopro products, but they are very nice replacements. Meet most of your needs for supporting accessories when you are shooting with your gopro hero camera. Package includes:Total 13PCS.1X Chest Belt Strap Mount 1X Head Strap Mount, (1X Handlebar Seatpost +1X Pivot Arm) 1X Floating Grip, (1X Handle Monopod +1X Tripod Mount Adapter) (1X Auto Suction Cup +1X Tripod Mount) 1X 3-way Adjustment Base, 1X Wrist Strap, 1X Carry Bag. Payment Delivery details Terms of sales About us Contact us Payment We accepted Paypal ONLY, All auction items must be paid in full. Shipping address must be the same as Paypal confirm address, if not, please contact and confirm with us. Delivery details All orders will be shipped within 2 business days after the payment is cleared. We use USPS First Class Service: all shipment will be with tracking number. Terms of sales We have satisfactory guarantee, if you are not satisfied with your purchase, or If by any chance you do receive a defective item please contact us and we will help to resolve your problem. Please contact us within 60 days of receipt to return it for refund or exchange. Non-defective item returns will be accepted within 14-days.There will be 15% restocking fees. Buyer is responsible for return shipping costs. About us Hiparts is a distributor of medical device , located at South San Francisco, CA 94080, Please Contact us at 9am - 5pm PST M-F for any questions if not email reply to you after 1 business day. If you have questions about legal obligations regarding sales of medical devices, you should consult with the FDA's Center for Devices and Radiological Health: https://www.fda.gov/cdrh/devadvice/ https://www.fda.gov/cdrh/industry/support/index.html Thanks for your cooperation! "The sale of this item may be subject to regulation by the U.S. Food and Drug Administration and state and local regulatory agencies. If so, do not bid on this item unless you are an authorized purchaser. If the item is subject to FDA regulation, I will verify your status as an authorized purchaser of this item before shipping of the item." Contact us If you do have any questions or concerns, please feel free to contact contact via eBay's contact seller button. We will answer your email within 24 hours except Holidays, Saturday and Sunday. On Mar-16-18 at 02:20:47 PDT, seller added the following information:
hiparts Feedbacks Rating
Feedbacks
( 84 ) m***s
So good, I bought a second one!
( 84 ) m***s
As advertised, great price. Quick shipment! This is a great accessory kit.
( 97 ) e***a
Item arrived very quick! Thanks a mil!
( 886 ) o***o
Great item? Thanks for the quick shipping!
( 181 ) o***c
Great Product... worked perfect
( 178 ) 2***u
Works great.
( 9 ) w***g
Thanks a lot, very fast shipping A++++ Seller
( 291 ) m***h
best and Honest seller, fast shipping+++ highly recommended, thank you.
( 700 ) u***u
Great follow through and communication. Would do business again
( 379 ) h***m
Great thanks
( 945 ) s***4
Excellent seller! fast shipping! smooth transaction!!! :-)
( 584 ) r***0
Very nice! Thank you.
( 281 ) l***a
Good and fast seller
( 1115 ) a***a
Thank you. WOW! Item is way better than I expected! So happy! Thanks!
( 256 ) e***s
Great product will definitely order again from your company
( 554 ) o***b
good item, very fast shipping
( 135 ) c***b
Very fast shipping. Love it !!!
( 552 ) f***x
Fast shipping!
( 18 ) u***a
AWESOME SELLER, GREAT ITEM, FAST SHIPPING!!!
( 280 ) l***n
You are great really fast
( 169 ) s***x
Great item as described, quick delivery, would buy from them again ANYTIME!!!!!
( 116 ) e***r
ARRIVED EARLY.JUST WHAT I NEEDED. I RECOMMEND SELLER!